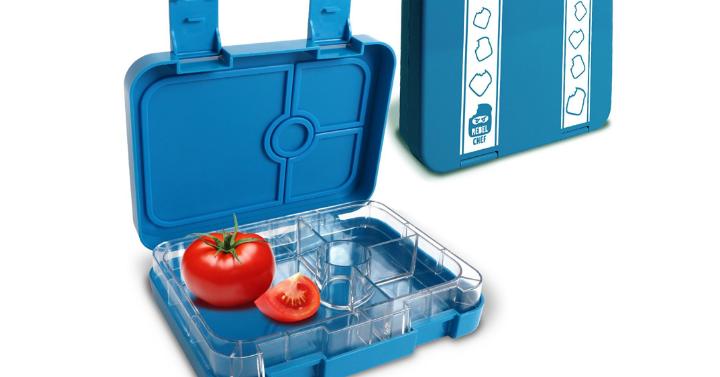 STOP BUYING NEW LUNCH BOXES OVER AND OVER AGAIN! You can use our lunch box even for your next child! Our lunch box is made of durable plastic that will survive your child's adventures. It contains a removable inner tray which is made of "TRITAN" polymer – made in USA! This removable tray is designed to also be put in the microwave to heat your food, and inside dishwasher for easy cleaning. This lunch box has been used daily by a family with kids for over 24 months and is still going strong!

PUT YOUR FAMILY'S HEALTH FIRST! Concerned about where you store your food for your loved ones? When you choose our lunch box you will feel safer, as all of the materials used in the production of our bento lunch boxes are BPA-Free and FDA-approved – which is fancy talk that means they're absolutely safe for you and your family, and contain nothing that can harm you.

SPOILED MEAL CAN LEAVE YOUR CHILD HUNGRY! Our LEAKPROOF lunch box has been tested even with water (which did not leak to adjacent compartments. We recommend however not to put liquids beyond dips). Our lunch boxes have dual locking clips, and each of their compartments is sealed separately. Not only does this prevent them from leaking, it also keeps different food from getting mixed up!

100% RISK FREE PURCHASE! At Rebel Chef, we're actually pretty proud of our bento lunch boxes. If, however, they turn up to be not to your liking, don't worry! Our bento boxes are covered by 30-day money back guarantee, so just give us a holler! Also, FREE SHIPPING for most buyers!

UNIQUE BONUS READY FOR YOU! ON-THE-GO RECIPE EBOOK! We have produced especially for this lunch box an eBook with 20 healthy sandwich recipes that every kid and adult will absolutely love! Priced at 11.95$, but FREE with every purchase! With these recipes you don't have to worry about your family's health, or what to prepare for lunch tomorrow! (eBook is sent via email)
Prize:
Rebel Chef Bento Lunch Box For Kids & Adults | Leakproof FDA Approved & BPA Free Plastic Kit With 4 Compartments & Removable Tray | For Snacks, Sandwiches, Salads, Fruit & More | Unique Recipe eBook
Ends:
December 7, 2017 11:59 PM PST or when the prize has been awarded.
Limit:
Restrictions:
ENTER GIVEAWAY