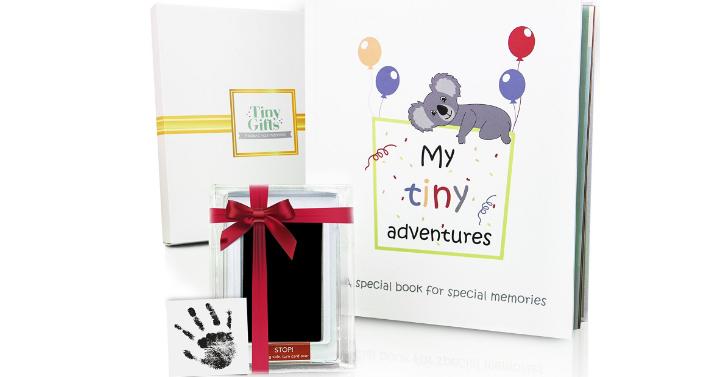 LIMITED UNITS AVAILABLE–> Don't Miss Out a Chance for This Complete Bonus Set: Clean Touch Ink Pad (included for FREE) & Elegant Gift Box

✅ DON'T MISS THE FIRST YEARS WITH YOUR BABY: Whether it's your first child or you've had girls and boys in the past, Tiny-Gifts Memory albums are ideal for your babies. Tell the story of your newborn. The first year of your baby's life goes fast. It starts with New Year's, and next thing you know you're at your baby's first Halloween. Don't miss a single milestone or the little memories and simple firsts that make up early childhood. From pregnancy to the 5th birthday, record it all

✅ NO MORE LONG AND EXHAUSTING JOURNALING! WE DID ALL THE HARD WORK FOR YOU: With Tiny-Gifts' smart design, just lay 6"x4" photos on each page and let the picture tell the story set in your scrapbook. Label things where they are to make sure your book is in order regardless of dates. We know new parents have a busy schedule and enough to worry about, so the fun should actually be fun! It's so easy, all family members will be able to contribute to this personalized version of your memories

✅ SEE YOUR INFANT TURN INTO A TODDLER BEFORE YOUR VERY EYES WHEN YOU FLIP THROUGH THESE MEMORIES: Tiny-Gifts' album isn't just a book for the first year of your baby's life. It goes way beyond that because we believe in going above and beyond in the pursuit of good times and happy memories for new parents and their darling boy or girl. We have pages documenting each month from birth till one year, extra space to put pictures from birthdays, from the 1st to the fifth and so much more

✅ DOCUMENT THE UNEXPECTED JOYOUS MOMENTS: BLANK PAGES FOR EXTRA MILESTONES: Every family is different. Sometimes the most special of moments are the ones that we never expected. An expecting mother, grandmother, or new daddy can rest easy with our gender neutral scrapbook leaving blank pages for memories you might never have thought to document. Because not missing a moment includes documenting the ones we didn't think of

✅ LIFETIME GUARANTEE – BONUS CLEAN TOUCH INK PAD & GIFT BOX: We'll refund your money within 12 hours & you can keep the book! No questions asked, no time limit asking for a refund. It's our way of saying thank you. Tiny Gifts' book includes a bonus clean-touch ink pad. Perfect for parents looking to make a keepsake out of their baby's hand or foot prints. Decorative gift box makes an ideal gift for the registry of any expecting parent, keeps the book safe & looks spectacular while doing so
Prize:
Baby Book - First Year Baby Memory Book Set: Record Your Girls or Boys First 5 Years! Babies Keepsake Journal, Scrapbook & Photo Album w/ Ink Pad & Gift Box for Newborn...
Ends:
December 16, 2017 11:59 PM PST or when all prizes have been awarded.
Limit:
Restrictions:
ENTER GIVEAWAY